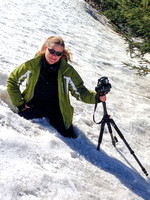 IMG_4436.jpgShooting in the High Peak in April 2014
About the Artist: Hobit Lafaye
"This then: to photograph a rock, have it look like a rock, but be more than a rock…I want the greater mystery of things revealed more clearly than the eye can see, at least more than a layman-the casual observer notes." -Edward Weston
Artist Statement
I use photography to create images of primarily natural scenes that go beyond chronicling and flirt with abstraction. The processes of taking and developing photographs invigorate me. Capturing images is a means of experiencing the world, as well as a form of meditation, taking me outside of myself as I walk through the woods, crouch on a riverside rock, revel in a detail of the landscape moving within the frame of my viewfinder. Likewise, developing images is an opportunity for play, exploration, those "Ah ha! Yes!" moments. I work intuitively, drawn by light, shadow, texture, and form. I am consistently captivated by the subtle magnificence of trees, leaves, and water in all its forms. I feel alive and a sense of connection as I experience and reveal the wonder and joy that still exists in the world despite our current era.
The majority of my current work is produced using digital processes. However, it is strongly informed by my background in film photography. While each format shares essential elements, they have distinct defining characteristics. I utilize their languages as tools for expression, as well as experiment with the mediums themselves to discover their possibilities while retaining their traditional tethers to physical reality. I am drawn to the dualities inherent in photography: light/shadow, time/timelessness, objectivity/subjectivity, physical/created realities, simplicity/complexity. My work coalesces and grows out of the ostensibly disparate traditions of pictorialism and modernism. Truth in materials is important to me; I oftentimes bring out subtle digital "artifacts" or leave other markers to assert what an image is and is not. I strive for work that evolves and deepens through time and process as consistent themes resurface.
I see art as an act of exploration, both for the creator and those experiencing it. Its purpose is to provide a realm of possibility or to reveal, rather than replicate. My work is an invitation to savor a moment and join the adventure. I have a deep love of nature, and of upstate New York in particular. I seek to share this connection to place and the beauty of the natural world, for its own sake as well as our need for it.
Biography
Hobit Lafaye was raised by her grandparents, assimilating their reverence for the woods and waters of northern Minnesota and the desert of Arizona as they migrated with the seasons. She discovered two of her lifelong loves- photography and outdoor adventure recreation- through her high school in Tucson. She then went on to Macalester College in Minnesota, where she was the photo editor and lead photographer for the weekly college newspaper. After graduation, she relocated to Florida and earned a second degree in studio art and art history at Florida Atlantic University, where her cohort of fellow artists and a professor had a profound and lasting impact on her work. At the time, she shot exclusively with a vintage medium format camera, focusing on nudes, urban landscapes, and conceptual work. Lafaye then had a ceramics business before moving to Ithaca, New York in 2005. She started her fine art photography business, Shooting Water Studio, in the winter of 2015. While now primarily considered a nature photographer, she is currently working on several conceptual series as well. Her award-winning work has been shown in a number of galleries throughout the country.
Select Exhibitions and Awards
2016 Solo Show, The Mezannine Gallery at Benjamin Peters, Ithaca, NY
2016 Top 250 Finalist, North American Nature Photography Association
2016 Annual Juried Photography Exhibition, State of the Art Gallery, Ithaca, NY
2015 Regional Juried Art Exhibition, Roberson Museum and Science Center, Binghamton, NY
2015 Juried Photography Exhibit, Adirondack Lakes Center for the Arts, Blue Mountain Lake, NY
2015 Annual Juried Photography Exhibition, State of the Art Gallery, Ithaca, NY
2015 "Zippity Do Dah," Honorable Mention, Annual Bob Johnston Memorial Juried Photography Show, Cooperative Gallery 213, Binghamton, NY
2015 "Tawanus Ghost," 2nd Place in the People category, Adirondack Life Magazine Annual Photo Contest
2002 3rd Place, 4th Place, and Honorable Mention, The Cutting Edge Juried Exhibition, St. Augustine Art Association Gallery, St. Augustine, FL
2nd Place, Black and White Juried Exhibition, St. Augustine Art Association Gallery, St. Augustine, FL
1999 The Art of Photography 6th Annual National Juried Exhibition, Armory Art Center, West Palm Beach
1999 BFA Exhibition, Florida Atlantic University, Boca Raton, FL
1998 Invitational Group Show, Mae Volen Gallery, Boca Raton, FL
1998 Invitational Group Show, The Red Room, Boca Raton, FL
1998 Havre de Grace Annual National Juried Printmaking Exhibition, Havre de Grace, MD
1998 FAU Annual Student Juried Exhibition, Ritter Art Gallery, Boca Raton, FL
1998 Women in the Visual Arts Bethesda Invitational, Boyton Beach, FL
1998 Women in the Visual Arts Artist of the Year Award and Scholarship, Boca Raton, FL
Bibliography
2001 Photograph "America Land of the Free" chosen for display at the St. Johns County Library, St. Augustine, FL
1994 Photograph published on back cover and within text of book "Torch to the Heart," ed. Sue McConnel
1993 Photograph "Lock is Frozen" published in "The Chronicle of Higher Education" weekly newspaper
Education
B.A. Cultural Anthropology, Macalester College, St. Paul MN
B.F.A. Studio Art (Photography and Ceramics) and Art History, Florida Atlantic University, Boca Raton, FL
M.S. Outdoor Recreation Education, State University of New York- Cortland, Cortland, NY
Professional Affiliations
North American Nature Photography Association
Professional Photographers' Society of New York State